Polyurethane Skirting
Polyurethane Skirting is more abrasion resistant than traditional rubber skirting in low speed applications, offering improved material & dust retention and significantly longer service life.
Modern polyurethane can be compounded for maximum abrasion resistance without wear penalties and can be the optimum choice for prolonged skirting life.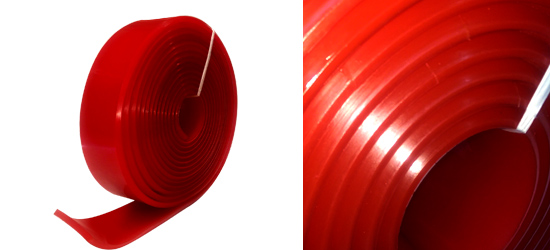 Red Polyskirt – 70°Duro Shore-A
Red Polyskirt is manufactured from a specific 70° Durometer Shore-A, low friction, abrasion resistant, polyester based polyurethane. Red Polyskirt is compatible with traditional rubber skirting clamping systems and features a 35° and 45° chamfer on one edge to reduce belt wear.
Sizes
| Width | Thickness | Length of Roll |
| --- | --- | --- |
| 75mm | 16mm | 15m |
| 100mm | 12mm, 16mm | 15m |
| 150mm | 12mm, 16mm | 15m |
| 200mm | 12mm | 15m |
| 250mm | 12mm | 15m |