Conveyor Belting
Waminco supplies a wide range of conveyor belting for mining, quarrying and other industrial applications.
Polyester Nylon
PN (Polyester Nylon) conveyor belt is constructed from high grade rubber, reinforced with grade specific cloth, utilising Polyester fibres in the warp (lengthwise) and Nylon fibres in the weft (across). The homogeneous rubber top & bottom covers the belt completely.
PN belting is general purpose belting.
The carcass determines the tensile strength of the belt, hence determining the load that a belt can carry.
The covers determine the resistance of the belt to impact, wear, abrasion, heat, oils, mild acids & alkalis and other atmospheric conditions.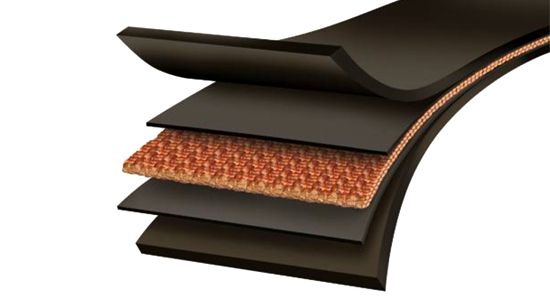 Conventional Conveyor Belting Carcass Sizes
Waminco can supply these conventional carcasses with a range of top & bottom covers. We stock a comprehensive range of standard widths with common covers, as well as popular non-standard combinations.
Carcass Fabric Type
Nominal Tensile Strength kN per Metre of Width
Elongation At Break
Belt Width
2 Ply
3 Ply
4 Ply
PN80
160
240
-
> 10%
300mm To 2400mm
PN100
200
300
400
> 10%
300mm To 2400mm
PN125
250
375
500
> 10%
300mm To 2400mm
PN150
300
450
600
> 10%
300mm To 2400mm
PN200
-
600
800
> 10%
300mm To 2400mm
PN250
-
750
1000
> 10%
300mm To 2400mm
PN300
-
900
1200
> 10%
300mm To 2400mm
Cover Grades
Waminco can supply belting with covers to suit your applications. Covers typically conform to AS1332 or DIN22102.
| Grade | Application |
| --- | --- |
| AS1332 N | General Purpose. Impact and abrasion resistant. |
| AS1332 M | General Purpose. Heavy abrasion and heavy impact resistant. For use in more arduous applications than N grade. |
Custom Order Belting
Waminco can order custom and special belting to your requirements, including, but not limited to, the following special configurations.
Grade
Application
CFW
Crows Foot Weave
Superior Rip & Tear Resistance
SM
Steel Mesh
Rip Stop Steel Mesh imbedded in the top cover to resist Longitudinal cutting and tearing
ST
Steel Cord belts
Conveyor Belting Product References
AS1332 N Grade | AS1332 M Grade | PN450/3 | PN600/3 | PN600/4 | PN800/4 | Crows Foot Weave | CFW