Rubber Wear Liners
Rubber Wear Liners are made from a high quality 60 Duro Shore-A rubber compound specifically designed for high impact & extreme wear resistance.
Bonded or vulcanized to steel backing plates, wear plates can then be securely bolted or clamped to the machine structure.
Applications for Wear Liners include, chutes, rock boxes, tanks, pipes, trommels, cells & screen components. Wear plates can be shaped & supplied as per a specific requirement.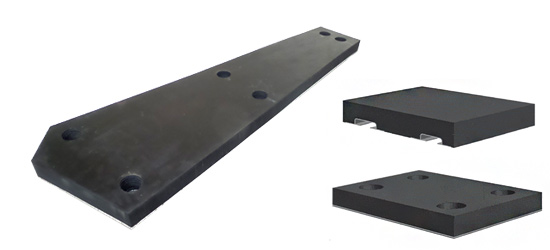 Sizes
Wear Liners are typically supplied between 25mm and 100mm thick with 5mm to 10mm steel backing plates. They are cut or manufactured to your requirements.
Specifications
Physical Properties
Cure 15' @ 160°
Elongation
ASTM D412
500% Min
Tensile
ASTM D412
20 MPa Min
Specific Gravity
AS 1683.21
1.14 ± 2%
Abrasion Resistance
AS1683.21
90 gm Max
Hardness
ASTM D2240
62 ± 5 Shore-A
| | | |
| --- | --- | --- |
| Oscillating Disk Cure Meter | 190°C, 3° arc, 100 Scale | |
| MH | ASTM D2084 | 5.75 ±0.45 Nm |
| ML | ASTM D2084 | 1.52 ± 0.28 Nm |
| TC 95 | ASTM D2084 | 2 ± 0.2 Minutes |
| TS2 | ASTM D2084 | 1 ± 0.15 Minutes |
Rubber Wear Liners Product Reference
Eurotech