Conveyor Idler Rollers
Steel Trough & Return Rollers
Waminco's steel rollers are available in a range of standard off the shelf sizes, or can be custom made to your requirements.
All rollers feature primary and secondary dirt seals, deep groove ball bearings and ERW tubing with MIG welded ends. Shafts are stepped as required.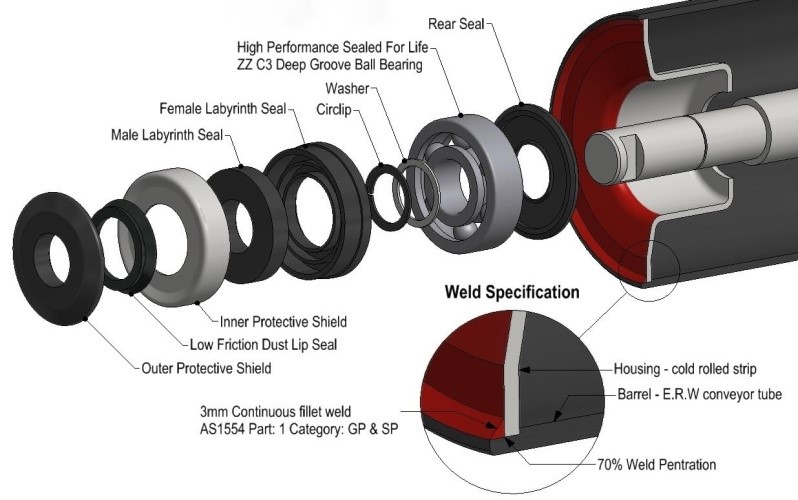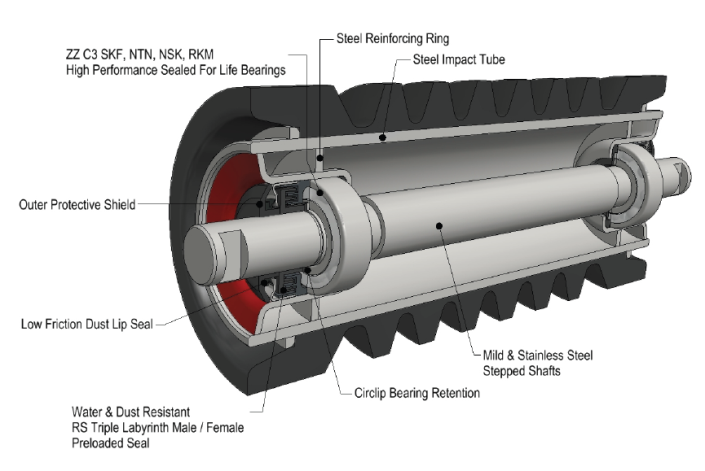 Impact Rollers
Deployed in the impact (loading) area of a conveyor belt, the rubber rings prolong belt and system life by absorbing the impact energy of the media being loaded. The rubber rings are secured to the steel by retaining clips and/or vulcanisation.
Impact rollers are available in standard or FRAS rated configurations.
Disk Return Rollers
Fitted to the return side of the belt the open spaces between the rubber discs reduce media carry back. Spiral return rollers are also available.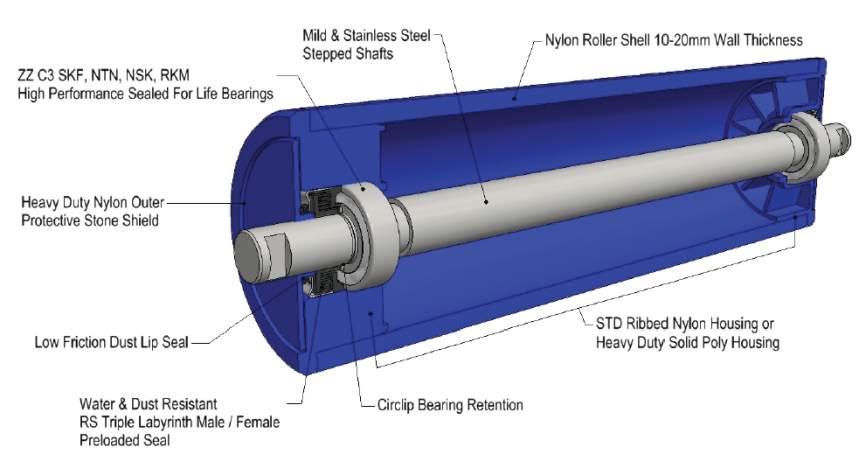 Polymer Rollers
Lighter in weight, corrosion resistant and producing less noise, polymer rollers have advantages in many specialised situations. Available in Nylon or Polyethylene, with or without a steel reinforcement, there is a polymer roller for just about every application.
Stock Rollers
25mm Shaft, 14.3mm Broach
14kN Dynamic Loading
| 127mm Steel Trough | Belt Width | Part No. | Face Width |
| --- | --- | --- | --- |
| | 450mm | CRTS127B172B2 | 172mm |
| | 600mm | CRTS127B224B2 | 224mm |
| | 750mm | CRTS127B278B2 | 278mm |
| | 900mm | CRTS127B331B2 | 331mm |
| | 1000mm | CRTS127B358B2 | 358mm |
| | 1050mm | CRTS127B383B2 | 383mm |
| | 1200mm | CRTS127B436B2 | 436mm |
| | 1500mm | CRTS127B541B2 | 541mm |
25mm Shaft, 14.3mm Broach
14kN Dynamic Loading
| 127mm Steel Return | Belt Width | Part No. | Face Width |
| --- | --- | --- | --- |
| | 450mm | CRRS127B0544B2 | 544mm |
| | 600mm | CRRS127B0694B2 | 694mm |
| | 750mm | CRRS127B0844B2 | 844mm |
| | 900mm | CRRS127B0994B2 | 994mm |
| | 1000mm | CRRS127B1094B2 | 1094mm |
| | 1050mm | CRRS127B1144B2 | 1144mm |
| | 1200mm | CRRS127B1294B2 | 1294mm |
25mm Shaft, 14.3mm Broach
14kN Dynamic Loading
| 133mm Rubber Impact | Belt Width | Part No. | Face Width |
| --- | --- | --- | --- |
| | 600mm | CRIR133B224B2 | 224mm |
| | 750mm | CRIR133B278B2 | 278mm |
| | 900mm | CRIR133B331B2 | 331mm |
| | 1000mm | CRIR133B358B2 | 358mm |
| | 1050mm | CRIR133B383B2 | 383mm |
| | 1200mm | CRIR133B436B2 | 436mm |
| | 1500mm | CRIR133B541B2 | 541mm |
25mm Shaft, 14.3mm Broach
14kN Dynamic Loading
| 127mm Rubber Disc Return | Belt Width | Part No. | Face Width |
| --- | --- | --- | --- |
| | 600mm | CRDR127B0694B2 | 694mm |
| | 750mm | CRDR127B0844B2 | 844mm |
| | 900mm | CRDR127B0994B2 | 994mm |
| | 1000mm | CRDR127B1094B2 | 1094mm |
| | 1050mm | CRDR127B1144B2 | 1144mm |
| | 1200mm | CRDR127B1294B2 | 1294mm |
| | 1500mm | CRDR127B1644B2 | 1644mm |